Life Imitates Art
Paul Ferney's cake print
(right) is one of the first pieces of art people see in our house. It's placed in an collage at the end of
our endless hallway entrance.
I guess Ella's been admiring it for a while now because she asked me to make it for her school party today. I thought it was a good idea and totally doable. I used
these simple recipes
for the cake and icing. Only took me 8 hours! Maybe 10. It's the classic problem of being overly confident in my abilities to do anything. I've baked probably 2 cakes in my entire life yet I expect to be as good as the rest of 'em. I'll learn.
After trying a piece of the cake and realizing it tasted like an actual brick (over mixed the batter!), I did what any deflated baker does: pout on the couch. Ella came up to me and gave me a big hug and said, "Just put a lot of icing on it. That's what the kids like anyway." Problem solved. Love her.
Imitating art rather than trying to make a perfect Martha Stewart cake is way more my style. It's more thought provoking, forgiving, and inspiring. Basically, it shows I'm
so
intellectual and deep. Always a goal of mine! And even if the cake tastes horrible, it's far better then the taste of oil paint and canvas. I hope so at least.
After the jump: Five of my favorite pieces of art featuring cake. The best is the first one--I'm so happy I found it!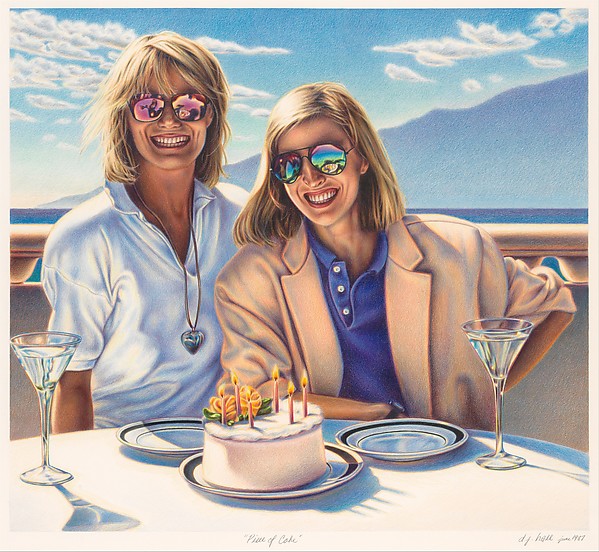 DJ Hall's Piece of Cake via the Met (interesting back story here.)